Get Involved
There are lots of opportunities to get involved either on a one-off or on a regular basis.
If you'd like to meet like-minded people who care as much as you do about Charnwood's heritage or just fancy learning something new consider signing up for one of the activities below. All training and equipment is provided and no experience is necessary. We even have some tasks that can be done from the comfort of your own home. Don't be shy – join us!
At home and in the archive
Archival research volunteers are currently investigating the social history of Charnwood Forest's towns and villages. Discover how your village dealt with poverty, illegitimacy, orphans and unemployment. Investigate the early village charities that we set up to help tackle some of these difficulties in the centuries before the Welfare State.
Are you reasonably tech savvy and interested in archaeology and old buildings? If so you could help us to research the archaeological sites and historic buildings of one of our Charnwood Roots villages. Using the Leicestershire Historic Environment Record online and various other sources you can help us create a site log for each period of Charnwood's history from prehistory to present day.
The time commitment for this is three days in total. You could do this in one go over a rainy Bank Holiday weekend or in bite-sized chunks of an hour or so over three months. It's entirely up to you!
In the great outdoors
If you are free on 23rd and 24th July you could become a trainee archaeologist for the day and join Rothley's Big Dig.
This is a good option for those that cannot commit to ongoing volunteering but who could spare a couple of days in the summer.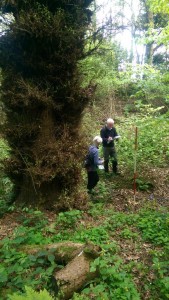 It is an easy and enjoyable way of learning some basic excavation, finds identification and recording techniques.
For adventurous, active types we run a programme of landscape surveying. This involves a little more time commitment, about half a day per week during the Spring surveying season, and you need a reasonable level of fitness to take part and to be unflustered by the vagaries of the British weather. We are currently undertaking a survey in Martinshaw Wood, recording hidden archaeological features.